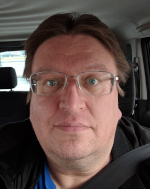 My name is Marko Vidberg and I am a Canadian tech geek. I have been involved with computers since 1985 and the Internet since 1995. I have a wide breadth of knowledge in the computer field, with a university degree in computer science and numerous years of work experience in web development, Linux server administration, programming, database administration, networking, hardware solutions, technical support and consultation. I am fluent in English (reading / writing / speaking) and fully understand Finnish as well (although my reading / speaking is very rusty).

You can find me on
Discord
by the handle "cryptocronic#7690". On
Bitcointalk.org
I am "cryptocronic". On
Reddit
and
PlayStation Network
I am "cryptocronix".
I am semi-retired and not actively looking for work. I spend my time tinkering with hobby projects, mostly related to things on the Internet or cryptocurrencies.
Check out my book!
If you think you have an opportunity for me, please
contact me
! I am interested in the betterment of society and helping others find freedom and happiness.